https://businessdoc.us/wp-content/uploads/2011/04/xOwnerReg_Corp.jpg
 


---
BizDoc - Enterprise Tour
(Maximum number of companies is the primary difference between Corporate and Enterprise)

Access any part of the application quickly from a simple navigation toolbar.

  Company Profile

• Tracks up to twenty-five companies.
• Enter reoccurring data only once.
• Hyperlink to business credit agencies.
• Email links to company headquarters.
• Links to the Business License form.
• Use the form navigation toolbar to move between companies.
• Hyperlink to SIC code resources and secretaries of state.
Company Profile

Track Business Licenses
•Business licenses are tracked for each company.
•License information is included on the Alerts and Reminders form.
•Select a company on the Company Profile and click the Business Licenses button to view licenses.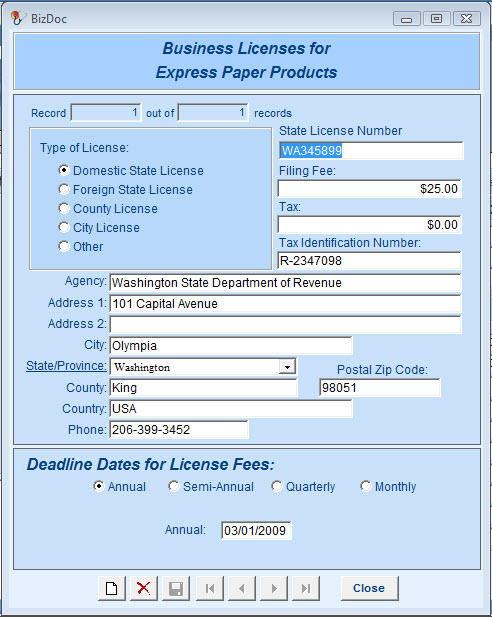 Business Licenses

  People Profile

• The People Profile links people records to employee records.
• Data is entered only once no matter how many companies each person is associated with.
• Automatically insert people related data into documents and reports.
• Maintain personnel information in one place.
• Send email to individuals from within the application.
• Use the forms navigation toolbar to move between the names of people.
People Profile


  Titles and Responsibilities

This form links the roles of people to people records within each company.  Data is automatically inserted into documents. (For example, when the secretary, or equivalent in an LLC or other type of business entity, is marked, the person's name, the office of 'Secretary', and a signature line appear at the bottom of many documents.)
Titles & Responsibilities


Group Owners

Data for groups of people and companies that that have ownership is entered here.  The groups appear on the Owner Register where the number of shares/units of ownership are entered.   Ownership then appears in documents and reports.

  Owner Register

Click Owner Register on the Navigation toolbar and this Owner Register appears.  It contains reports, tools, and links to the data entry forms for the owner register.
Owner Register
Data entry forms are also accessible from a sub-menu on the Navigation toolbar.
Enter Transactions

The Enter Transaction form is accessible from the Certificates form.  Owner transactions are entered here.
Certificates
After entering ownership transactions the details appear on the Certificates form. Up to three types of user defined ownership can be tracked.  Double click a record and a screen appears with details for the certificate.
Certificates
Transactions

The Transactions form shows two grids, one for the currently selected transaction and the other for either the preceding or following transaction for the selected certificate.  Double click a certificate title to move to either the prior or next transaction. You can track certificates from the current transaction to the initial offer.

Transactions Ledger
Owner Roster

The amount of ownership for each owner is shown for each of three types of user defined ownership.
Ownership Roster



Meetings
Press the 'Meetings' icon on the Navigation toolbar and this Meetings menu appears.
Meeting Menu

 Director Meetings

• Meetings are categorized as General, Annual, Special, and First.
• Minutes, notices, waivers, proxies, and resolutions are generated on the Create Documents form.
• Includes Officer, Employee, and Other Meetings, and corresponding Committee Meetings.
• Data is automatically inserted into documents.
Director or Manager Meetings


Owner/Member Meetings

• Owner Meetings are categorized as Annual, Special, or First.
• Owner committee meetings are also tracked.
• Minutes, notices, proxies, and wavers are generated in Create Documents.
• Owner attendance is tracked.
Owner Meetings


Resources
• Includes information for the Resident Agent, Attorney, Accountant, Realtor, Banker, and Broker.
• Data is automatically inserted into reports and documents.
• Resource records are maintained in one location where they can be quickly accessed.
Resources


Web Resources

First select the name of a state, territory, or province from the pull-down list.  Then select the specific website for that governmental entity, for example New York Corporate Law, Company Forms, etc.

Web Tutorial Movies

  Create Documents
• Automatically generate, save, and print documents that fulfill legal requirements.

• The Create Documents form lists titles based on the type of business entity selected on the Company Profile. For example, if the company is identified as an LLC then documents appear on the Create Documents form for an LLC.
Click here to see the titles of the documents in this version.
Create Documents
• Data from the database appears as answers to questions.  Answers can be changed before the document appears in the word processor, where it can be further edited.   The document can be saved to the database, printed, or saved to an external file.
Word Processor and Sample Document


Saved Documents

Documents created within the BizDoc application can be saved to the database and retrieved later.  External documents can be linked so that titles appear in the same list.  Just double click the title of either internal or external documents to open them in a word processor.
Documents are organized by company and displayed in the order they were created. Clicking a company tab at the top of the form displays all of the documents saved for that company. Saved documents can be modified, saved to the database with a different title, printed, or saved externally in an RTF file format.  Documents can be organized according to user defined categories.
Saved Documents


Calendar
The dates of documents, owner and director/manager meetings, and ownership transactions are a few of the activities that are automatically tracked and displayed on the calendar for each company.
Color coded dates are displayed graphically on the calendar while text details are listed on the right side of the screen.
Calendar

To-Do List

Use the To-Do List to keep track of entity related activities.
To Do List


Alerts and Reminders
Alerts and reminders can be exported to MS Outlook.  Many alerts come from the database including date of organization, end of fiscal year, license due dates, etc.  Other entity related data can be entered here and it is included in the export to Outlook.
Alerts & Reminders
To test BizDoc Enterprise, just press the button below to download a two day free trial.  If you decide to purchase, return here and press a 'Buy Now' button.  After purchase, you will receive an email with a key for the Enterprise version.  You don't need to uninstall or reinstall the software.  Data entered during the trial period will remain after the trial.
If you don't need a trial, just press the 'Buy Now' button to purchase the Enterprise version and an unlimited use key will be emailed to you.


Pricing and Comparable Products
There are templates for statutory formality documentation on the Internet for little cost and you may even find some free versions but none of these come close to the functionality of BizDoc.  BizDoc is a database that saves your data to tables and automatically inserts the information into professionally designed documents, and then presents documents in a word processor for further review and editing.   The Enterprise version also permits you to save documents to the database and organize both internal and externally linked documents based on user defined categories. The Enterprise version also includes a comprehensive owner register that in itself is an application worth the price of BizDoc Enterprise.
You can have your copy of BizDoc Enterprise for only $395.

"Enterprise Version"
There are four other versions of the software, each contains the features of the prior version and more.  The Standard version contains 50 general business documents and holds information for one company.  The Pro version includes 95+ business documents and it can hold information for two companies.  The Premier version includes 200+ documents and it can save and organize documents. Premier is primarily for companies that do not trade ownership.  It can hold information for three companies on two computers.  The Corporate version contains an extensive owner register (not the register in the Premier version) and can hold information for 10 companies on three computers.  The Enterprise version can hold information for 25 companies on four computers. Corporate and Enterprise each contain 200+ documents.   All versions are Local Area Network (LAN) compatible.